Meet our new Master Aesthetician, Sarah!
She loves to stay current on all types of innovations in the skincare industry and strives to make all her patients feel comfortable and at ease. With over 17 years of experience, Sarah offers personalized skincare and treatment for various skin issues such as rosacea, hyperpigmentation, and acne.
Give us a call at (703) 705-2100 or send us an email to schedule your appointment! info@jaekimmd.com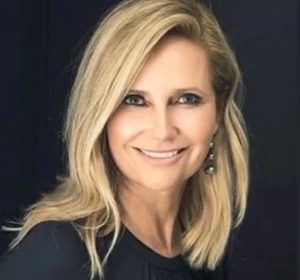 ---
Plasma Fibroblast
Want to refresh your eyes but don't want to dive into surgery just yet? Plasma fibroblast is a non-surgical procedure that treats excess skin, undereye bags, and wrinkles. Worried about time? This procedure takes only about 1-2 hours! The effects can last up to 3 years, although many results last longer.
Dermaplaning
Gently exfoliate and eliminate unwanted peach fuzz with dermaplaning! This procedure is quick and easy and is sure to leave your skin smooth and bright. It may also help your makeup set better, and your skincare regimens will work more effectively!
Facials
Trouble with acne, aging skin, or sensitive skin? Deep cleanse and exfoliate with a facial! Sarah, our wonderful master aesthetician, starts each treatment with a free skin analysis and customizes a facial just for you to bring out healthy youthful skin.
Chemical Peels
Chemical peels stimulate new skin cells and collagen for healthier skin. They are especially great for improving hyperpigmentation and dull/uneven skin tone. By exfoliating the skin, you can also improve signs of aging and brown spots as well! We carry a variety of chemical peels that offer penetration levels from superficial to deep peels, so there's something for everyone. Ask us about our Retinol Peels, where we add concentrated retinol for deeper exfoliation!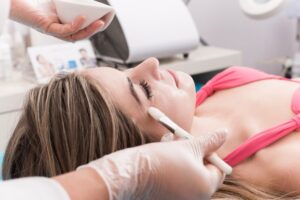 Microdermabrasion
As a non-invasive procedure, microdermabrasion exfoliates the top layer of dead skin cells while stimulating collagen growth for a brighter and more even skin tone. With little to no downtime, this procedure is great at cleaning and clearing out your pores. To achieve a more extensive exfoliation, you can combine this procedure with others such as chemical peel!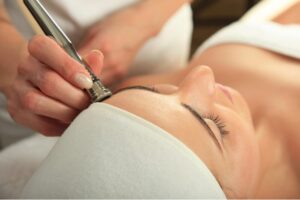 Microneedling
Reverse the effects of sun damage, fine lines, wrinkles, and scars with microneedling with the all-new FDA cleared RejuvapenNXT by Refine USA! This minimally invasive treatment stimulates cell turnover, boosts collagen production, and even improves skin texture. It's relatively painless and also great for reducing large pores and age and brown spots. Performed in a safe and precise manner with the use of a sterile needle head, this procedure is normally completed within 15-30 minutes, depending on the required treatment and anatomical site. The best results are achieved after a series of microneedling treatments and patients are repeatedly happy with their results!
---
Your skin deserves the best! Call or text 703-705-2100 today to schedule your exclusive consultation and treatments with Sarah, our Master Aesthetician!