World-Class Asian Plastic Surgery in Virginia, Maryland, and D.C.
what is Asian Plastic surgery?
Plastic surgery is very popular among Asian patients. The anatomy and desired aesthetic goals of Asian patients are different from that of Caucasian patients, especially when they pertain to the eyelids and the nose. As a Korean-American, Dr. Kim appreciates these nuances and has dedicated himself to mastering the techniques for Asian plastic surgery Fairfax, VA. He is excited to provide these services for patients who may otherwise travel overseas for them. If you are looking for Asian plastic surgery in Virginia, Maryland, or D.C., give us a call to schedule a consultation! (703) 705-2100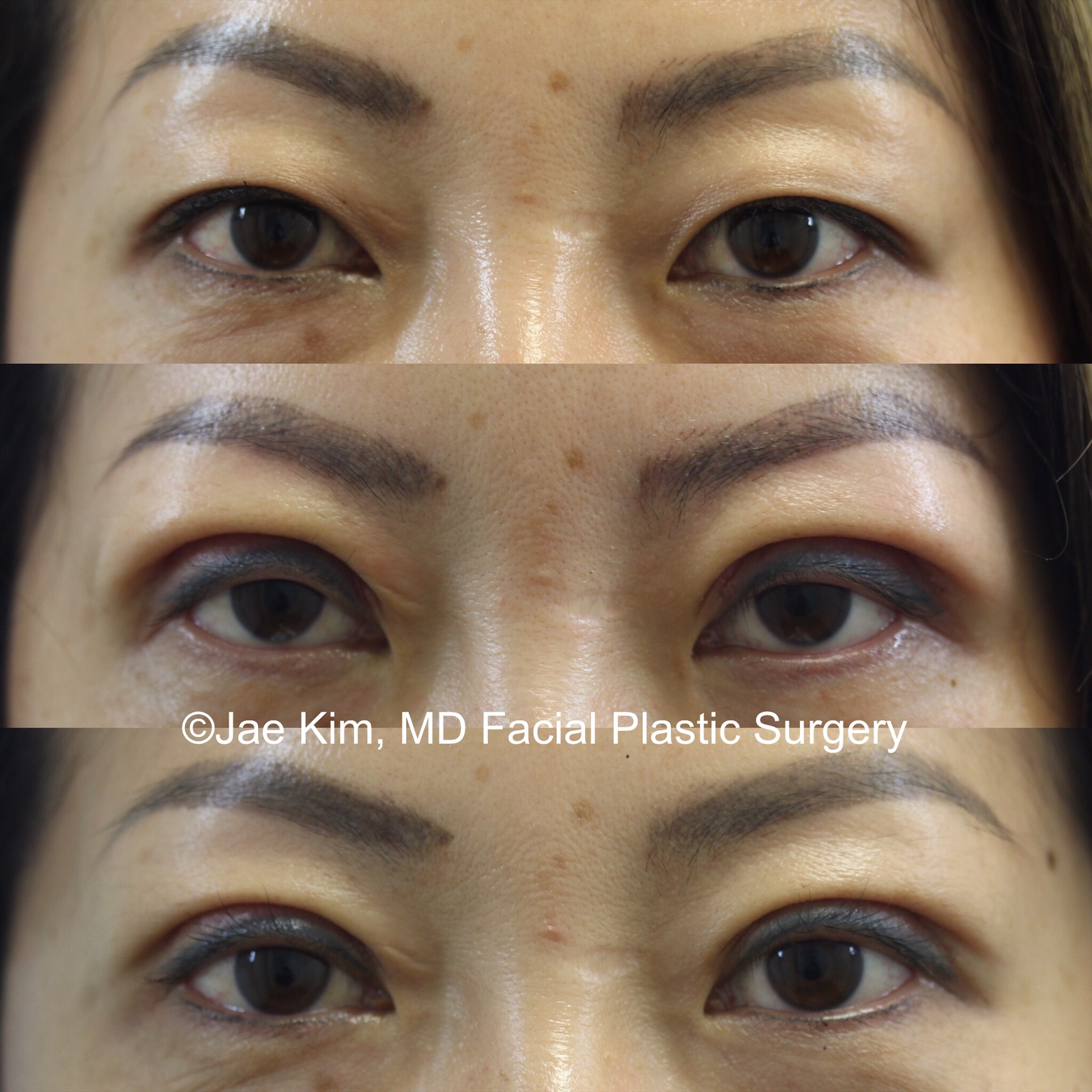 Asian Blepharoplasty
The Asian upper eyelid is different from the Caucasian eyelid, most notably in the area of the lid crease. This crease is often lower or absent in Asian patients, and this feature is often different among Asian nationalities. Some issues that patients notice day to day and bring up to surgeons include difficulty with application of eyeliner and eye shadow, the position of the eyelid crease relative to the eyelid margin, and excess skin crowding the field of vision. Dr. Kim listens to these concerns, performs a thorough evaluation, and offers his recommendations for the best desired result. Sometimes this may require widening the opening of the eyelids, or ptosis repair, which can be performed in the same procedure. The overall goal is not to simply "westernize" the eyes, but to create an appearance that is harmonious with your facial features and will bring out your eyes for a long time.
During recovery after Asian double eyelid surgery, you may notice some swelling and bruising. Sutures are removed about one week after surgery. You can return to normal physical activity two weeks after the Blepharoplasty surgery.
Asian rhinoplasty
The goal of Asian rhinoplasty is to augment the nose and improve definition. In contrast to the Caucasian nose, the Asian nose features thicker skin, lower nasal bridge, and more bulbous contour. In the past, many patients underwent rhinoplasty with implantation of artificial materials such as Gore-Tex or silicone. Dr. Kim is able to use your own cartilage from the nose, the ears, and the rib to improve the shape and structural definition of the nose. While this approach requires general anesthesia and takes longer, it is proven to be safer, and it provides a longer-lasting result without the risk of extrusion or rejection of a foreign implant in a delicate and complex area such as the nose.
What Dr. Kim's patients say Dr. Jae Kim is an amazing injector! He takes time to discuss the recommended treatment with his patients, answers any questions you might have and makes you feel at ease with his gentle bedside manner. I would highly recommend Dr. Kim to anyone looking for a customized treatment with top notch care!
M.Y. My experience with Dr. Kim has been nothing less than spectacular! He has such a caring demeanor and precise eye for giving me filler exactly where I need it, but not to look overdone. He has a gentle hand with administering injections and I've always been pleased with the results!
E.H.