Botox In Fairfax, VA
Botulinum toxin injection is the most common cosmetic procedure performed. It is most frequently used to stop the movement of muscle groups around the eyes and forehead. By doing so, it prevents the formation of permanent lines and wrinkles that show signs of aging. The most commonly treated area of the face is the upper third, including frown lines, forehead wrinkles, and crow's feet. It is injected directly into the muscles, causing them to relax. The effect is noticeable a few days after treatment. It usually lasts for 3-4 months, and it is very safe and effective.
Botox can be used in other areas of the face. Dr. Kim can inject the masseter muscles, which are used for chewing, to achieve a slimmer appearance of the jawline. By weakening the muscles, Botox may also improve teeth grinding. The results are noticeable after about 6 weeks and can last 6 to 9 months. Chewing and biting are usually unaffected.
Dr. Kim is excited to provide the newest product for his patients. Jeuveau, also known as Newtox, is already popular in Korea and was recently FDA approved for use in the USA. It is indicated for treatment of moderate to severe glabellar lines, which are the result of constant frowning activity between our eyebrows. It is similar to Botox but designed exclusively for cosmetic use.
Several forms of botulinum toxin are available, including Botox, Dysport, and Xeomin. While Botox is the most well-known product, the others are also readily available and very effective.
Dr. Kim is an experienced injector and uses safe and proven techniques to provide patients with a very pleasant experience. Call (703) 705-2100 today for your Botox Fairfax, VA appointment!
Facial Fillers FairfaX, VA
A major component of the aging face is loss of volume. This volume loss begins in our 30s and continues to progress, resulting in a deflated or sunken appearance. Replacing facial volume with fillers is one reliable method of restoring a more youthful look.
The aging process causes hollowing and sagging of the facial tissues. This can lead to the appearance of sunken cheeks and dark circles under the eyes, as well as deeper nasolabial folds and jowls. By using a combination of injectables and fillers, Dr. Kim can restore a more youthful appearance of the face and neck with minimal downtime. This procedure is more commonly known as a liquid facelift, which is a great option for patients who do not want surgery to achieve a younger and refreshed look.
Many fillers are made of materials that our bodies make naturally, including hyaluronic acid and calcium hydroxyapatite. Some fillers are delicate and work well for fine lines, while others are more robust and work well for replacing larger areas of volume loss. Fillers are temporary, but some have demonstrated the ability to stimulate production of our own collagen to restore and improve skin quality and texture, long after the material itself has dissolved.
During your consultation with Dr. Kim, he will listen to your specific concerns about your face and offer individualized treatments. As an expert in head and neck anatomy and the facial aging process, he understands what areas to treat and how to treat them to rejuvenate your facial appearance. Call Dr. Kim's office in Fairfax today at (703) 705-2100 to schedule your consultation!
FACIAL FILLERS BEFORE & AFTER
Lip Augmentation
The shape and volume of your lips are part of what makes you unique as an individual. Your verbal expression, as well as a large part of your nonverbal expression, comes from the lips. With the passage of time, however, your lips can show signs of aging, including drooping at the corners, thinner appearance with decreased lip volume, flatter Cupid's bow, or more wrinkles.
Lip augmentation is performed using hyaluronic acid fillers. Commonly used fillers for the lips include Juvederm Ultra XC, Juvederm Volbella, and Restylane. Dr. Kim can enhance the appearance and shape of your lips without making them look overdone or unnatural.
Lip fillers can be performed in the office, and results last about 9-12 months. Call Dr. Kim's office in Fairfax today at (703) 705-2100 to schedule your consultation!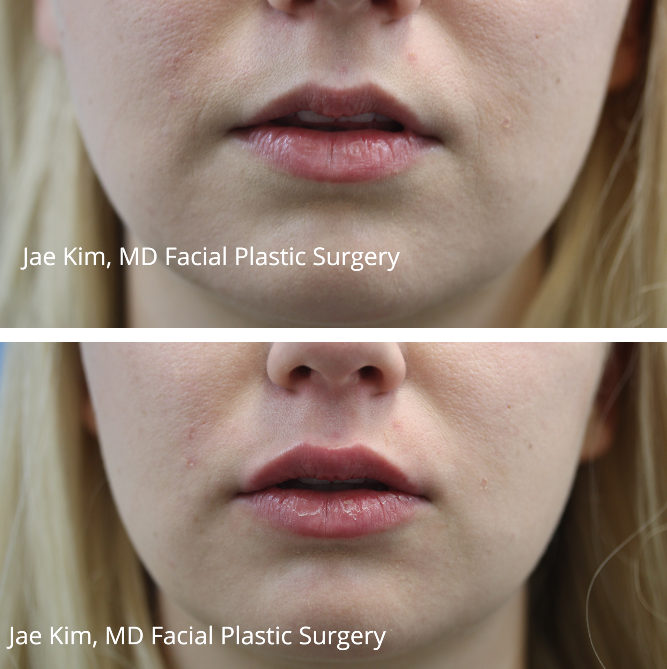 Injection Rhinoplasty
Imagine improving the shape of your nose with no trip to the operating room and little to no downtime! While surgery is the most comprehensive way of improving the shape of your nose, certain features can be improved without surgery in a minimally invasive fashion. For patients not ready to commit to surgical rhinoplasty, injection rhinoplasty (also known as liquid rhinoplasty) can improve the appearance of the nose. Using the appropriate fillers, certain contour irregularities can be hidden, giving the nose a more proportioned and harmonious look. Dr. Kim offers a safe and effective injection rhinoplasty.
Call Dr. Kim's office in Fairfax today at (703) 705-2100 to schedule your consultation!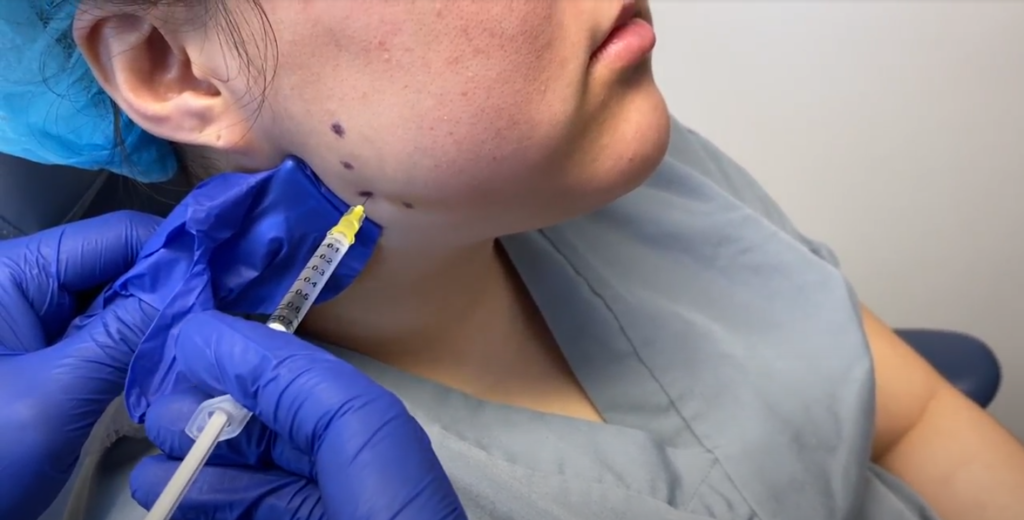 What Dr. Kim's patients say Dr. Jae Kim is an amazing injector! He takes time to discuss the recommended treatment with his patients, answers any questions you might have and makes you feel at ease with his gentle bedside manner. I would highly recommend Dr. Kim to anyone looking for a customized treatment with top notch care!
M.Y. My experience with Dr. Kim has been nothing less than spectacular! He has such a caring demeanor and precise eye for giving me filler exactly where I need it, but not to look overdone. He has a gentle hand with administering injections and I've always been pleased with the results!
E.H.