Laser Therapy for Facial Rejuvenation
Looking to reduce or eliminate aging skin or scar tissue?
Our state of the art laser treatments address a wide range of skin concerns. Over time, sun exposure, loss of collagen, accidents, or heredity can leave you with skin that causes you to have an old or tired appearance. Rejuvenate your appearance and restore that youthful glow!
Facial Rejuvenation refers to the different procedures that can make your skin look fresh and younger-looking, whether it's to treat sagging skin or reduce the appearance of fine lines and wrinkles.
This procedure has minimal downtime and does an excellent job of reducing wrinkles and giving your face a fresh glow.
Most procedures cause little to no pain, and for some, only a topical numbing cream is needed.
Call Dr. Kim's office in Fairfax today at (703) 705-2100 to schedule your consultation!
Skin Resurfacing and IPL
Wrinkle Reduction: Our wrinkle reduction treatment penetrates the epidermis and causes skin cells to rapidly reproduce to heal the injury, thus stimulating collagen and eliminating the signs of aging. How does it get rid of fine lines and wrinkles? Our CO2 lasers beam into tiny shafts of light. These shafts of light penetrate through the epidermis and introduce heat into the sub-dermal layers of the skin. This heat causes skin cells to reproduce more rapidly to heal the injury, thus stimulating collagen.
Acne Scarring - Our Acne Scarring treatments will improve your skin so that it will look and feel dramatically better than it has in years! Our laser disburses gentle beams of infrared light. The energy is easily absorbed by our water-rich biological tissue. The laser vaporizes the top layers and places heat into our subdermal tissue to stimulate new skin and collagen. With this advanced modern technology, treatments can be tailored to your specific desires and expectations.
Skin Tightening - Our skin tightening laser treatment heats deep within the skin layers to stimulate and remodel collagen and cause elastin cells to regenerate. This results in a firmer, smoother, and more consistent skin surface. It is suited for all skin types, and after a single treatment, most patients notice that the area treated is smoother and softer.
Laser Hair Removal
Remove unwanted hair for good! Our laser hair removal treatment is the ultimate solution for removing unwanted body hair for any skin type. With this treatment, target body hair is removed, and patients see a permanent reduction in growth and finer hair in the target area.
Our laser hair removal treatment removes unwanted hair and permanently inhibits the growth of hair in the target area. This results in finer hair and less hair as it regrows. Patients will need touch up treatments once or twice a year, but most people are thrilled with the reduction in thick unwanted hair.
Patients experience minimal or no discomfort during the laser hair removal procedure and 6-8 treatments are usually required for optimal results.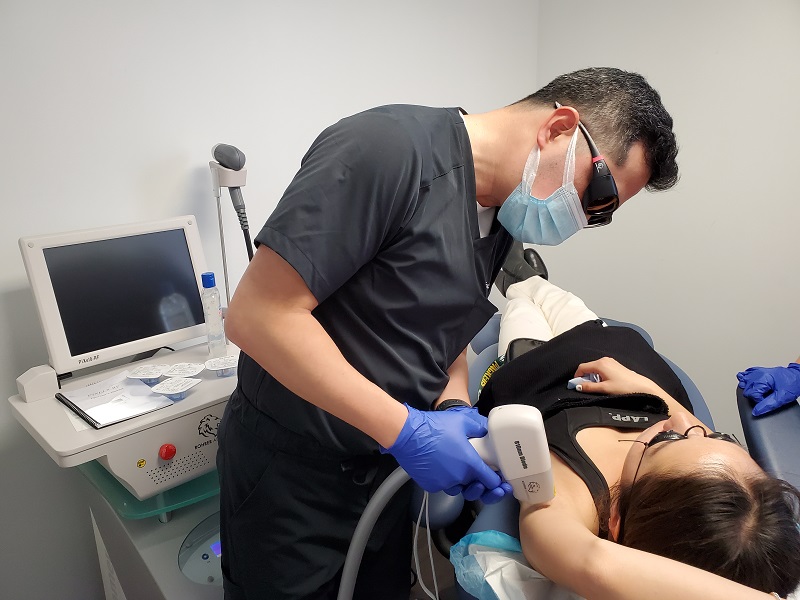 RF Microneedling
RF Microneedling is a great treatment option for mild to moderate acne scarring, fine lines and wrinkles, sagging skin, skin texture and pore size, and stretch marks. It can be used on all skin types. It only uses radiofrequency (RF) energy, so there is no risk of thermal damage to the epidermis.
Using a handpiece to deliver RF energy deep within the skin's dermis which tightens and rejuvenates the skin.This treatment can be adjusted according to the area being treated. Different frequencies and heat will be applied to areas based on how delicate the skin is, allowing it to be safe for areas under the eyes and on the forehead. The best results are achieved after a series of RF microneedling treatments and our patients are repeatedly happy with their results!
Tattoo Removal
Have a tattoo you regret? We now offer laser tattoo removal where laser light breaks apart ink pigments in the skin which are absorbed into the body and removed by the bloodstream.
Laser tattoo removal may take a couple of sessions. These sessions are quick, and most people describe the procedure as being less painful than getting the tattoo in the first place.
Vascular Reduction Treatment
This treatment improves the appearance of vascular lesions (spider veins) with our Spectrum long pulsed Nd YAG laser. Found commonly on lower legs or thighs, vascular lesions can appear on the face and can be due to a combination of genetics, sun damage, stress, and etc. During this quick and relatively painless treatment, light energy is delivered using pulses through the skin and into the vein to reduce the visibility and size of the vein. As a safe and effective treatment.
Call Dr. Kim's office in Fairfax today at (703) 705-2100 to schedule your consultation!
What Dr. Kim's patients say Dr. Jae Kim is an amazing injector! He takes time to discuss the recommended treatment with his patients, answers any questions you might have and makes you feel at ease with his gentle bedside manner. I would highly recommend Dr. Kim to anyone looking for a customized treatment with top notch care!
M.Y. My experience with Dr. Kim has been nothing less than spectacular! He has such a caring demeanor and precise eye for giving me filler exactly where I need it, but not to look overdone. He has a gentle hand with administering injections and I've always been pleased with the results!
E.H.