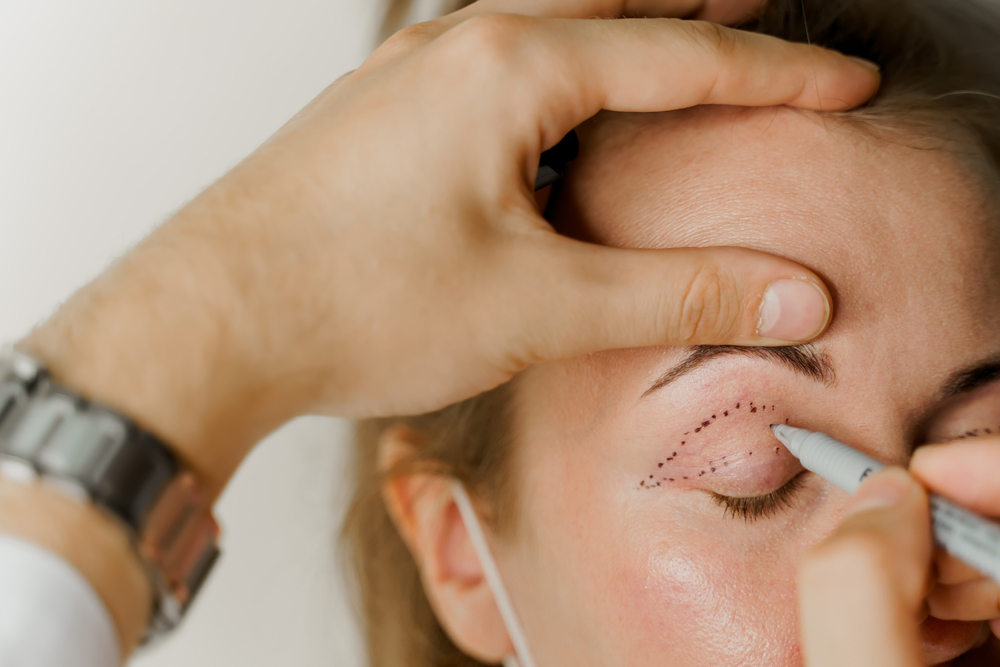 Here's How to Find the Best Eyelid Surgeon in Northern Virginia
Before you pursue any cosmetic procedure, especially a surgical one, it's important to do your own research beforehand and find a reputable doctor who will address all of your questions, wants, and needs.
Whether you're considering an upper or lower blepharoplasty, or both, here's how to find the best eyelid surgeon in Northern Virginia! 
Ask for a Referral or Recommendation
Seek referrals from trusted sources, such as friends, family, or healthcare professionals who have had positive experiences with eyelid surgery or know others who have. Personal recommendations can provide valuable insights and narrow down your options.
Verify That They're Board Certified
Look for a surgeon who is board certified in cosmetic surgery, especially facial procedures. Board certification through American Academy of Facial Plastic and Reconstructive Surgery (AAFPRS) and other boards indicates that the surgeon has undergone rigorous training, passed comprehensive exams, and meets the highest standards of professional competence.
Seek an Eyelid Surgeon With Specialties and Experience
Check to be sure the surgeon specializes in eyelid surgery and has extensive experience performing these procedures. Blepharoplasty requires specific knowledge and expertise in the delicate anatomy of the eyes and surrounding structures to craft custom results that flatter a person's unique features.
Choose a Provider Who Offers Comprehensive Care
Find a surgeon who provides detailed pre-surgical and post-operative care. They should be committed to your overall wellbeing, ensuring a smooth recovery process and providing ongoing support and follow-up care. This should also be customized to you and your unique circumstances.
Take a Look at Before / After Images
Review the doctor's before / after photos of previous patients. Pay attention to the consistency, results, and aesthetic appeal of their work. This will give you an idea of their surgical skill and the outcomes you can expect. Try to find cases that are similar to yours.
See What Past Patients Are Saying
On that note, reviews are a helpful tool for determining if a specific provider is right for you. Take the time to conduct thorough research on potential surgeons by reading reviews and testimonials from their previous patients to find a wealth of information about their skills, bedside manner, and similar matters.
Gauge How You Feel After a Consultation
Ultimately, the most helpful tip on how to find the best eyelid surgeon in Northern Virginia is to actually consult with them and consider how you feel about their quality of care. This initial consultation should cover any questions you have, offer helpful insights and information, and leave you feeling heard.
At the end of it, assess your thoughts on this potential doctor, and trust your gut. From there, you can decide if you want to pursue further care and dive deeper into your journey with eyelid surgery.
Go Over Pricing and Financial Options
Discuss the cost of the procedure during the consultation and ensure that it is transparent, including any associated fees and other potential costs. Also, make sure to inquire about financing options that may be available to make the procedure more affordable.
If the surgery is being performed to help restore sight, you should ask about insurance coverage and whether it's an option to make your treatment more affordable.
Wondering How to Find the Best Eyelid Surgeon in Northern Virginia? It's Simple – Choose Dr. Jae Kim!
Dr. Jae Kim is a double-board-certified surgeon specializing in various techniques to restore your youth and improve your confidence with personalized eyelid surgery and other treatments!
Call us today at 703-782-3003 to book a consultation and learn more. Our team can't wait to assist you and help you achieve your aesthetic goals through personalized procedures designed to meet your wants and needs!