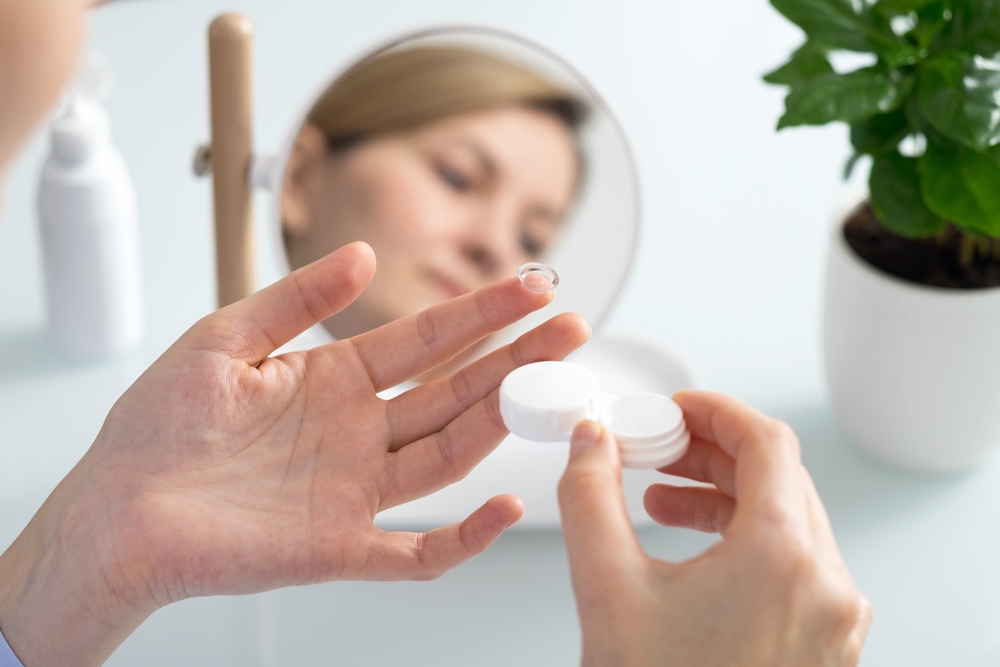 When Can I Go Back to Contact Lenses After Eyelid Surgery?
If you're interested in pursuing eyelid surgery, you're likely wondering what to expect during recovery with questions like, "When can I go back to contact lenses after eyelid surgery?"
Here's everything you need to know about blepharoplasty recovery, including how long it takes to make a full recovery and when you can exchange the glasses for your contacts.
What Is Eyelid Surgery? What Issues Does It Address?
Blepharoplasty, or eyelid surgery, is a surgical procedure that removes excess skin, fat, and tissue around the eyes. It can be performed on either the upper or lower eyelid or both to treat a variety of aesthetic and practical concerns.
Eyelid surgery is primarily done to reverse signs of aging, such as sagging skin and wrinkles. It can also be used to remove puffiness and bags underneath the eyes, as well as treat eyelid ptosis which can help to improve vision for many people whose impairment is a result of drooping eyelids.
How Long Does Recovery Take After Eyelid Surgery?
Everyone heals differently, so how long blepharoplasty recovery takes depends on your individual body's ability to heal itself after surgery, how involved your procedure was, and how well you care for the post-surgical wounds, among other factors.
At around two to three weeks, the majority of the swelling, bruising, redness, and similar side effects will have gone down, allowing you to enjoy your new and improved eye area with confidence. Six months is typically when you are considered fully healed.
By the six-month mark, virtually all swelling and redness should be gone.
So, When Can I Go Back to Contact Lenses After Eyelid Surgery? Is It a Long Wait?
If you wear contact lenses, chances are that you love them and would prefer not to switch over to glasses. Unfortunately, you do have to for a limited time. Before your blepharoplasty, make sure you have a pair of eyeglasses with your prescription, because you'll need them during healing.
Touching your eyes to put contact lenses in and taking them out runs a high risk of irritating your eyes after surgery due to the tugging and pulling on your incisions. Plus, it can allow bacteria to enter the nearby wounds, creating an infection.
Most patients only have to wait one to two weeks before they can resume wearing contact lenses. For upper blepharoplasty, wait a week. For lower blepharoplasty, wait two weeks. Ultimately, your surgeon will let you know when it's safe to wear contact lenses again.
The answer to your question, "When can I go back to contact lenses after eyelid surgery," is that the wait really isn't that long, and you'll be wearing contact lenses again in no time! The patience it takes is well worth it.
What Are Some Other Precautions I Should Take After My Eyelid Surgery?
While recovery after eyelid surgery isn't that long and it's considered to be an easy-going procedure to heal from, it is vital that you take good care of yourself and the incision sites for optimal results and healing. Here are some examples on how you can ensure a speedy, stress-free recovery.
Prepare for downtime. After your blepharoplasty, you're likely not going to want to be in the public eye for a bit, especially while the incisions are fresh and your eyelids are at their most bruised and swollen. You'll be advised to take some downtime from your work and school life for 10 to 14 days after your procedure.
In two weeks, you should feel more ready to return to work and go out in public more often. Because of this downtime, make sure to plan your finances, groceries, errands, chores, meals, and everything else you need on a day-to-day basis accordingly.
It might help you to have a friend, family member, or your partner with you during the initial healing phase.
Listen to your surgeon's advice. Your surgeon will go over everything you need to know about your procedure including aftercare. Make sure to listen to their advice on how often you should clean the incision sites and change bandages, how long you should wait to wear makeup, and how long you should avoid putting pressure on your eyes.
Take it easy. Use this recovery time to take it easy on yourself. Avoid bending over, engaging in strenuous activities like exercise, and lifting heavy things for at least two weeks. While gentle exercises like walking and yoga are safe, you should introduce them back in gradually and be careful to not overdo it.
Protect your eyes. While you're taking it easy on yourself, take it easy on your eyes too. It's recommended to limit watching TV, reading, and using the computer for a few days after your surgery to prevent your eyes from straining and getting tired or irritated.
It's also incredibly important that you wear sunglasses, especially on bright and sunny days. You should do this for at least a year following your surgery, but this is a good habit to have anyway.
Visit Dr. Jae Kim for Help Developing a Personalized Recovery Plan After Your Eyelid Surgery!
Our team is here for you after cosmetic surgery! Together, we'll develop a recovery plan that's personalized to you for stress-free healing.
View our before / after gallery for examples of our successful blepharoplasties and the many other surgical procedures we offer to see the care we give our patients! Give us a call today at (703) 782-3003 to schedule your consultation!