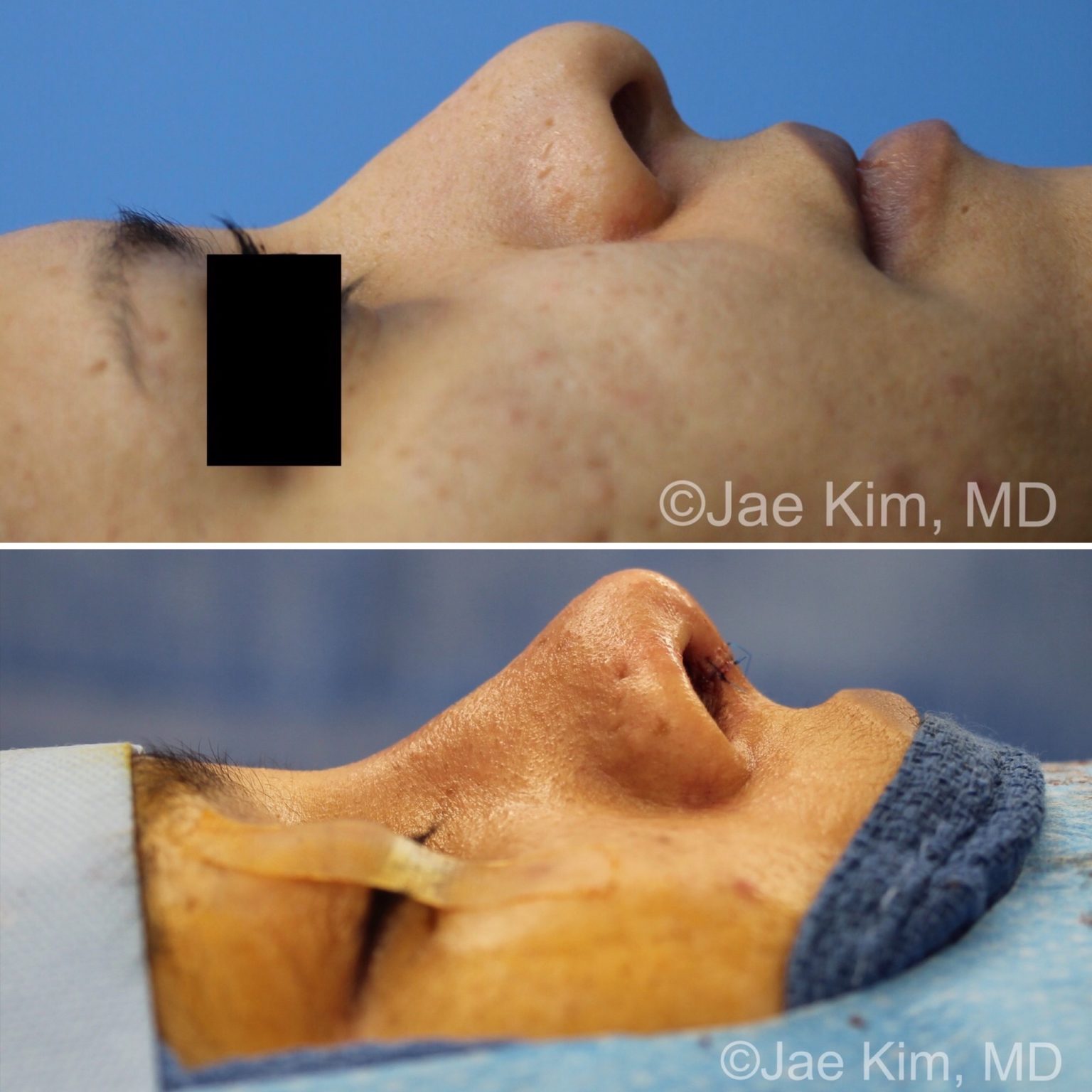 From the Desk of Dr. Jae Kim – DON'T DO THIS TO YOUR NOSE!
Have you thought about changing the shape of your nose? You're not alone. Rhinoplasty has consistently been one of the most requested procedures in cosmetic surgery. However, the idea of having surgery and dealing with the recovery process afterwards can be a sticking point. What if you don't want to go through the process and recovery of surgery? Are there other options? Absolutely!
As a facial plastic surgeon, I have seen various trends in facial beauty come and go. The aesthetic world is trending toward less invasive procedures with little to no recovery time and instant change. As great as this sounds, some trends are better not to follow. When it comes to your nose, I would not recommend threads, and I would not recommend implants. These may seem quick and easy, but they are not without significant risk.
Thread treatments for the face are getting a lot of attention. You may have seen some posts on YouTube or social media about quick in-office lifting for the brows, cheeks, and jawline. They make for catchy content with immediate changes that you can see. You have to ask yourself, for the money I pay for this procedure, will it last me as long as I want? The answer is a resounding no. Non-surgical aesthetic providers like threads for all the reasons that make them trendy. They splash your social media feeds with immediate results that look nice. If you are looking for 6 month or 1 year results, you will not find any because results do not last very long.
When you treat the nose with threads, you can achieve a mildly more defined bridge and a mildly more pointy tip. Threads work by catching the tissue with small barbs and pulling tissue parallel to the point of insertion. These threads generally are absorbed a few months later, so all that is left is a bit of scar tissue and little to no difference in shape. I see plenty of patients who have had thread procedures for their face and neck, including the nose, and they all say that their appearance looks the same as before they had threads. They feel like they wasted their money, so they come to a facial plastic surgeon like me for a better solution.
Unlike threads, which have become more popular recently, artificial implants for rhinoplasty surgery have been around for decades. Goretex, silastic, silicone, and other materials have been used to make the nose bigger or more defined. Results can be pretty good and last a long time. However, many patients come to my office seeking to remove their nasal implants, either because they don't like how it looks or because the implant is causing them trouble. Implants can move around, poke out of the skin, and even get infected and lead to damage that is very hard to correct. This reaction to a foreign body can continue even after corrective revision rhinoplasty surgery and lead to less predictable results.
If you prefer nonsurgical options for your nose, go with filler injections instead. Suitable candidates for injection rhinoplasty are patients who are bothered by nasal features and contours generally straight down the middle of the nose. Some of these features include a low nasal bridge, a small to medium size hump, and a mild to moderately round tip. Most features and contours besides these few should be addressed with surgery. If you want a permanent
change, go for rhinoplasty surgery with a surgeon who uses cartilage from your own body, not foreign materials.
As someone who regularly performs rhinoplasty surgery, I know and work with the anatomy of the nose inside and out. My knowledge base and perspective are different compared to non-surgical aesthetic providers. Trust your nose to Dr. Jae Kim, an experienced and compassionate facial plastic surgeon! Call my office today (703) 705-2100 to schedule your consultation!