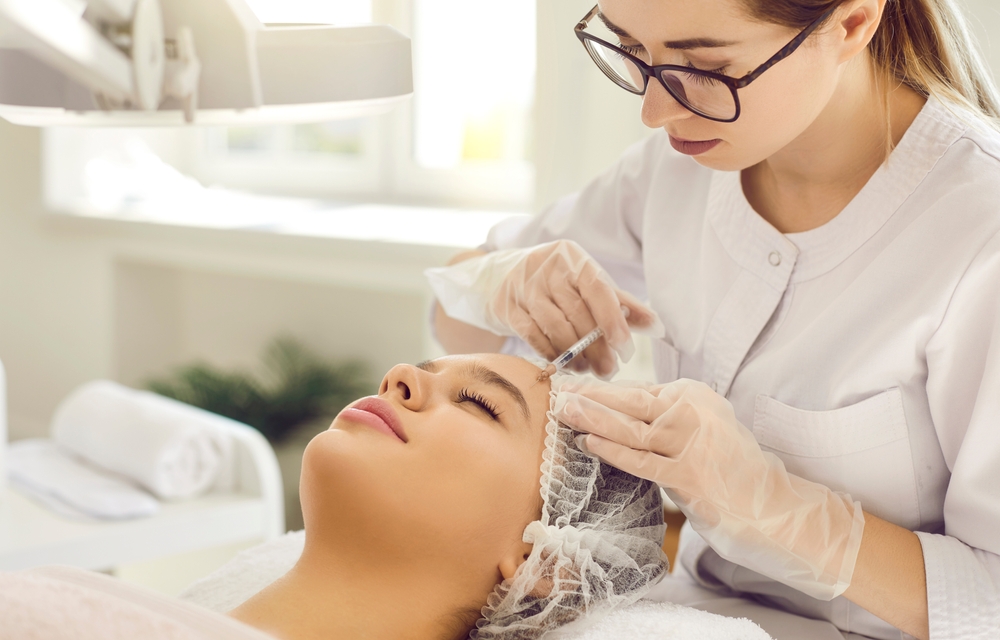 Natural Volumization with Sculptra
What Makes You Look Older?
One facial feature that shows your age is volume loss. A big component of volume loss is collagen loss. We lose collagen at a rate of 1% per year starting in our 20s.
There are certain areas of the face where volume loss is particularly noticeable: temples, below the cheekbones, around the mouth and nasolabial folds, in front of the ear, and along the jawline.
Gravity, along with volume loss, makes you look deflated and saggy over time. One way to help you look younger is to restore some of the volume you have lost.
How Do You Restore Facial Volume?
One way to restore facial volume is with filler. Filler is made of hyaluronic acid or calcium. If you use filler to restore volume to all these areas, you will need more than a few syringes of fillers of various types, and the effects may last about one year.
Is there a simpler, more effective, and longer-lasting way to rejuvenate all these areas with one solution? Absolutely!
Why Sculptra?
Sculptra is versatile. If you use filler, you may need several types of fillers of different thickness and flexibility for different areas of the face. Sculptra can restore volume in all areas of the face.
Sculptra is also more economical – think of putting equity in your home as opposed to renting. While fillers take up space and leave behind no appreciable structure after they dissolve in about a year, Sculptra helps build your own body's collagen.
How Does Sculptra Work?
Sculptra is made of chains of lactic acid. It is injected under your skin into the areas where you want increased facial volume. Your body responds to the injection in a focused manner by activating fibroblasts, the cells that make collagen, specifically in the areas where you want more volume.
Sculptra is broken down entirely and removed by the body, leaving behind only collagen and no foreign materials, which is great for a more holistic and natural rejuvenation process.
Am I a Candidate for Sculptra?
If you are highly physically active and feel like your face is starting to thin out, Sculptra is for you. If you see shadows and folds where you hadn't noticed them before, Sculptra is for you.
If you are not quite ready for facelift surgery, Sculptra will help you achieve a more vibrant youthful appearance. Most patients who do not have a cherub-like face are good candidates.
If I Get Sculptra, Can I Still Get Filler?
Yes, absolutely!
If you are going for certain shapes and contours, for example a sharp jawline or cheekbones, filler is a great tool that complements the overall volume rejuvenation that you can achieve with Sculptra.
Generally filler and Sculptra treatments are performed at separate visits. Have a discussion with your injector about your facial beauty goals to set a timeframe for your treatments.
What to Expect at your Treatment Session
Your treatment session is similar to other injectable treatments like filler or Botox. At the end of your visit, your skin will feel amazing! You may feel some swelling and tightness along the treatment areas that will last for a couple days.
Afterwards, the volume of the injection will go away, and your body will start to make new healthy collagen to boost your facial volume.
Will I Be Swollen and Bruised?
Just like with other injectable treatments, there is a small chance of bruising. Do not plan your Sculptra treatments immediately before a public event.
To minimize your risk, avoid alcohol for several days before and after treatment, as well as certain medications like aspirin, fish oil, and others that thin your blood.
When Will I See the Results?
Don't be alarmed if you do not see the change after two or even four weeks. You may actually need to wait several months to see appreciable results.
Depending on the areas and the severity of volume loss, you may need multiple vials and multiple treatment sessions. Sculptra is not immediate gratification. Just like saving your money, you will not reap the benefits until later, so you have to trust the process.
How Many Treatments Do I Need?
Most patients achieve optimal results with two to three treatment sessions spaced about 6-8 weeks apart. For a subtle natural change, two sessions is usually sufficient. For improvement of severe volume loss, more sessions are recommended.
How Long Will the Results Last?
Many patients see results that last much longer than filler, upwards of 2-3 years. After the initial treatment sessions, periodic maintenance treatments around once or twice a year to keep looking younger and more vibrant.
For more information or to schedule your treatment, call the office at (703) 705-2100 today! Trust your facial beauty to Dr. Jae Kim, a top specialist in facial plastic surgery!