What Should I Expect During my Recovery After Asian Eyelid Surgery?
So, you just had Asian double eyelid surgery with Dr. Jae Kim! What should you expect during the recovery process?
One thing you will notice almost immediately is swelling. Most of the swelling sets in between your lashes and the line of sutures. The double lid technique that Dr. Kim uses for your surgery confines the swelling to this very small area, so it takes a while to go down. During that time, your double lid will look bigger and higher than the final result. If you are looking for Asian eyelid surgery in Virginia, Maryland, or DC, give us a call today to schedule your consultation with Dr. Kim: (703) 705-2100
How long is a while? For some patients, it takes about 3-4 weeks for most of the swelling to go down, but for others, it can take a few months. Most patients are very presentable by 6 weeks after surgery. After that, there may be a little bit of swelling some mornings which goes away quickly. Some factors that may prolong swelling include allergies, thyroid issues, prior double eyelid surgery, high salt intake, certain medications, and crying from watching too many Korean dramas while you recover. Some measures you can take to help the swelling include eating some pineapple, taking Arnica pills, and sleeping with your head a bit elevated. If desired, a low dose steroid regimen can help as well, but is recommended if you have no adverse reaction to the medication.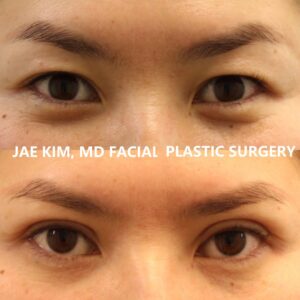 Will other people notice during my recovery that I had eyelid surgery? Your close family and friends probably will, but believe it or not, most people likely will not know. If you wear glasses or frames as camouflage, most people won't bat an eye (hehe). As for the sutures during the first week, they are visible only if you intentionally close your eyes. Otherwise your eyes are open except when you blink, which is too fast for most people to notice.
Can swelling look worse on one side compared to the other? Absolutely! The healing process can be different between the two eyelids, especially during the first couple weeks. If one crease initially looks a bit higher and bigger, don't panic! The difference will look less noticeable once the swelling subsides.
Along with the swelling, your eyelids may feel heavy. They may also feel more tired with screen time or reading. Make sure to rest your eyes and look away periodically. After a few days, you will be able to do some upward gaze exercises comfortably. Your upper eyelids will start to get used to the new double lid crease as you look up and down with your eyes only.
Refrain from strenuous physical activity for about two weeks, and as much as you want to, do not rub your eyes. The skin is very fragile, especially right after the sutures are removed at your one-week follow up visit.
These are some of the things to expect as you recover from Asian double eyelid surgery with Dr. Jae Kim, an experienced and compassionate facial plastic surgeon. For further questions, call or text the office today at (703) 705-2100 to make your appointment. We look forward to meeting with you and taking care of your beautiful eyes!